Performance That Conquers Any Resistance
4300C Programmable Digital Micro-Ohmmeter
Features of the 4300C include four terminal compensation, a very low 2mΩ range, selectable test current levels (up to 10 amps), a fast-settling charge inductor mode, safety disconnect status indicators, automatic temperature compensation, a basic accuracy of ±0.03% and a push button or GPIB controlled current on/off selector.
Extraordinary Features
User-selectable test-current up to 10A
Boosted compliance voltage mode for rapid charging of motors and transformers
"Safe to Disconnect" status indicators
Test-current "On/Off" switch
Selectable voltage sensitivity – 1μV, 10μV, 100μV
18 voltage sense/current combination provide optimal measurement conditions
Selectable display refresh (100ms-to-500ms) with variable intensity
RS-232 serial interface
Programmable-automatic temperature compensation
Built-in limit comparator with visual-acoustic indications and rear panel relay terminals
Run/Hold w/Peak Detector
Print/Log Function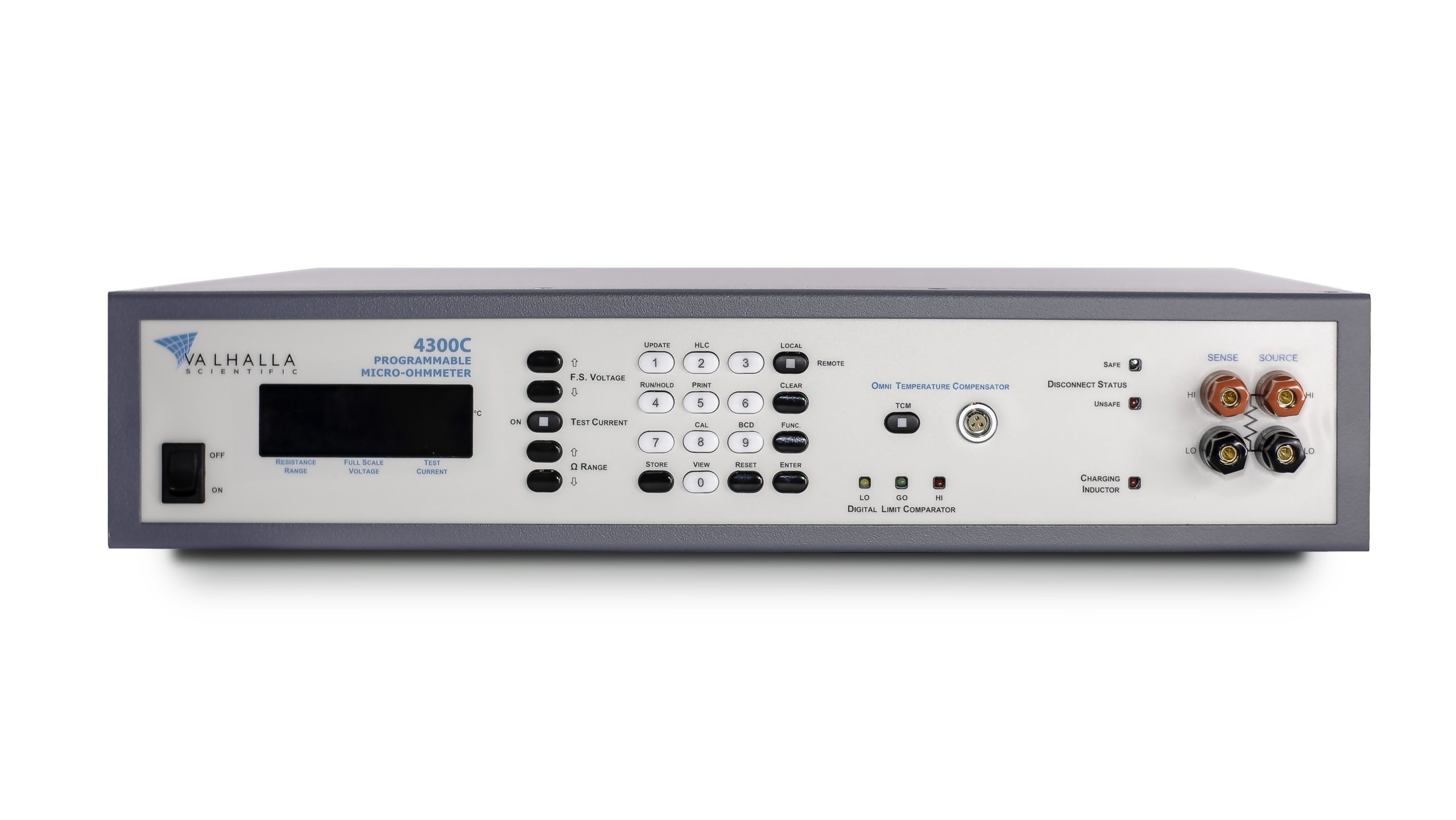 Transformers, Motors, Cables, and More
The 4300C is the perfect instrument for tackling ultra-low resistance testing requirements associated with motors, transformers, fuses, connectors, breakers, bonding/weld resistance, and many other applications. For rapid testing of inductive loads the 4300C's charge inductor mode provides in excess of 20V compliance. This model reduces the settling time by a factor of 5:1 on inductive loads. The result is valid readings in minutes instead of hours when testing 400MW utility transformers. A solid-state "Crowbar" design provides front-end protection for up to 500 amps of induced current.
Automatic Temperature Compensation
Copper and aluminum will exhibit approximately a 0.4% change in resistance for a 1°C change in ambient temperature. When in Automatic Temperature Compensation mode (TCM), the Valhalla 4300C temperature sensor automatically senses the ambient temperature and references the resistance value of the test item equivalent to being in a 20° C controlled environment. A 10° C change in ambient (i.e. open air, shop floor) provides a 4% change in the resistance of a copper item. Without this "TCM" feature, a micro-ohmmeter which may be 0.02% accurate may be making a 5-10% resistance measurement error when measuring copper or aluminum (i.e., transformer wire) material.
Virtually all competitive micro-ohmmeters lack copper or aluminum (TCM) ambient temperature coefficient of resistivity compensation. Ambient temperature can have drastic effect on the resistivity of a conductor. Without temperature compensation, materials can easily be erroneously classified during the resistance testing process. Correcting the resistance measurement on copper conductors, while ambient temperature varies makes "TCM" a very useful feature.
Large Inductor Resistance Measurement
The 4300C's 10A current source is ideal for low resistance inductors such as utility transformers. Combining the current output with boosted compliance voltage (>20 VDC) enables rapid stable resistance readings in seconds, not hours. Having unique features like Automatic Temperature Compensation, High Level Current Sourcing (10A) with High Compliance Drive circuitry and 18 combinations of Voltage / Current Range Selectivity, the 4300C Digital Micro-ohmmeter is second to none.
Charging Inductor Mode Indicator
The Valhalla 4300C charging inductor mode LED, indicates when the unit's current source compliance voltage is exceeded. The 4300C "Boost Mode" then increases the compliance voltage to exceed 20V output to reduce the settling time (charges the inductance) when inductive loads (i.e. large transformers) are being measured.
#

Range

Test Voltage

Full Scale

Resolution

Test Current

Accuracy
(± % reading ± Ω)

Temperature Coefficient

TCM Mode Accuracy
(± % reading ± % ΔT)

1
2mΩ
20mV
2.0000mΩ
100nΩ
10A
± .06 ± .0006m
±50ppm/°C
± .11 ± .0006m
2
20mΩ
20mV
20.000mΩ
1µΩ
1A
± .04 ± .006m
±50ppm/°C
± .09 ± .006m
3
200mΩ
20mV
200.00mΩ
10µΩ
0.1A
± .04 ± .06m
±50ppm/°C
± .09 ± .06m
4
2Ω
20mV
2.0000Ω
100µΩ
10mA
± .04 ± .0006
±50ppm/°C
± .09 ± .0006
5
20Ω
20mV
20.000Ω
1mΩ
1mA
± .04 ± .006
±50ppm/°C
± .09 ± .006
6
200Ω
20mV
200.00Ω
10mΩ
0.1mA
± .04 ± .06
±50ppm/°C
± .09 ± .06
7
20mΩ
200mV
20.000mΩ
1µΩ
10A
± .06 ± .003m
±50ppm/°C
± .11 ± .003m
8
200mΩ
200mV
200.00mΩ
10µΩ
1A
± .04 ± .03m
±50ppm/°C
± .09 ± .03m
9
2Ω
200mV
2.0000Ω
100µΩ
0.1A
± .04 ± .0003
±50ppm/°C
± .09 ± .0003
10
20Ω
200mV
20.000Ω
1mΩ
10mA
± .04 ± .003
±50ppm/°C
± .09 ± .003
11
200Ω
200mV
200.00Ω
10mΩ
1mA
± .04 ± .03
±50ppm/°C
± .09 ± .03
12
2kΩ
200mV
2.0000kΩ
100mΩ
0.1mA
± .04 ± .0003k
±50ppm/°C
 ± .09 ± .0003k
13
200mΩ
2V
200.00mΩ
10µΩ
10A
± .06 ± .03m
±50ppm/°C
± .11 ± .03m
14
2Ω
2V
2.0000Ω
100µΩ
1A
± .04 ± .0003
±50ppm/°C
± .09 ± .0003
15
20Ω
2V
20.000Ω
1mΩ
0.1A
± .04 ± .003
±50ppm/°C
± .09 ± .003
16
200Ω
2V
200.00Ω
10mΩ
10mA
± .04 ± .03
±50ppm/°C
± .09 ± .03
17
2kΩ
2V
2.0000kΩ
100mΩ
1mA
± .04 ± .0003k
±50ppm/°C
 ± .09 ± .0003k
18
20kΩ
2V
20.000kΩ
1Ω
0.1mA
± .04 ± .003k
±50ppm/°C
± .09 ± .003k
Other Features
The Model 4300C can also be programmed for Hi-Lo limit comparison. Three front panel LEDs allow a visual of the result and a rear panel relay closure screw terminal block can be used to implement an automated batch sorting system for components or products, operate counters, sound alarms or shut off a process. A Run/Hold function is also a standard feature of the 4300C. The user can program this function as a peak hi or peak low detector. Measurements may be printed or logged and viewed in a spread sheet by using the Print/Log feature also standard with the Model 4300C.