The Best in Accuracy, Precision, and Ease of Use

4176 Programmable Digital Micro-Ohmmeter
Extraordinary Features
With a basic accuracy of 0.04%, this model allows measurements from 1uΩ to 30kΩ. The seven ranges can be activated manually or through the Auto-Range feature.
For optimal accuracy, connections to the load are made via a four-wire Kelvin binding post terminal that can accept banana plugs, spade lug or wires.
7 Measurement Ranges from 20mΩ to 30KΩ
1uΩ Resolution on lowest range
10uA – 1A Constant Test Current
0.04% Basic Accuracy
Four Terminal Kelvin Connections
Auto-Ranging Mode
Selectable Display Rate (100ms-to-500ms)
VFD Display w/Adjustable Intensity
RS-232 Serial Interface
Programmable Temperature compensation
Built-In Limit Comparator w/Visual-Acoustic Indications and Rear Panel Relay Terminals
Run/Hold w/Peak Detector
Print/Log Function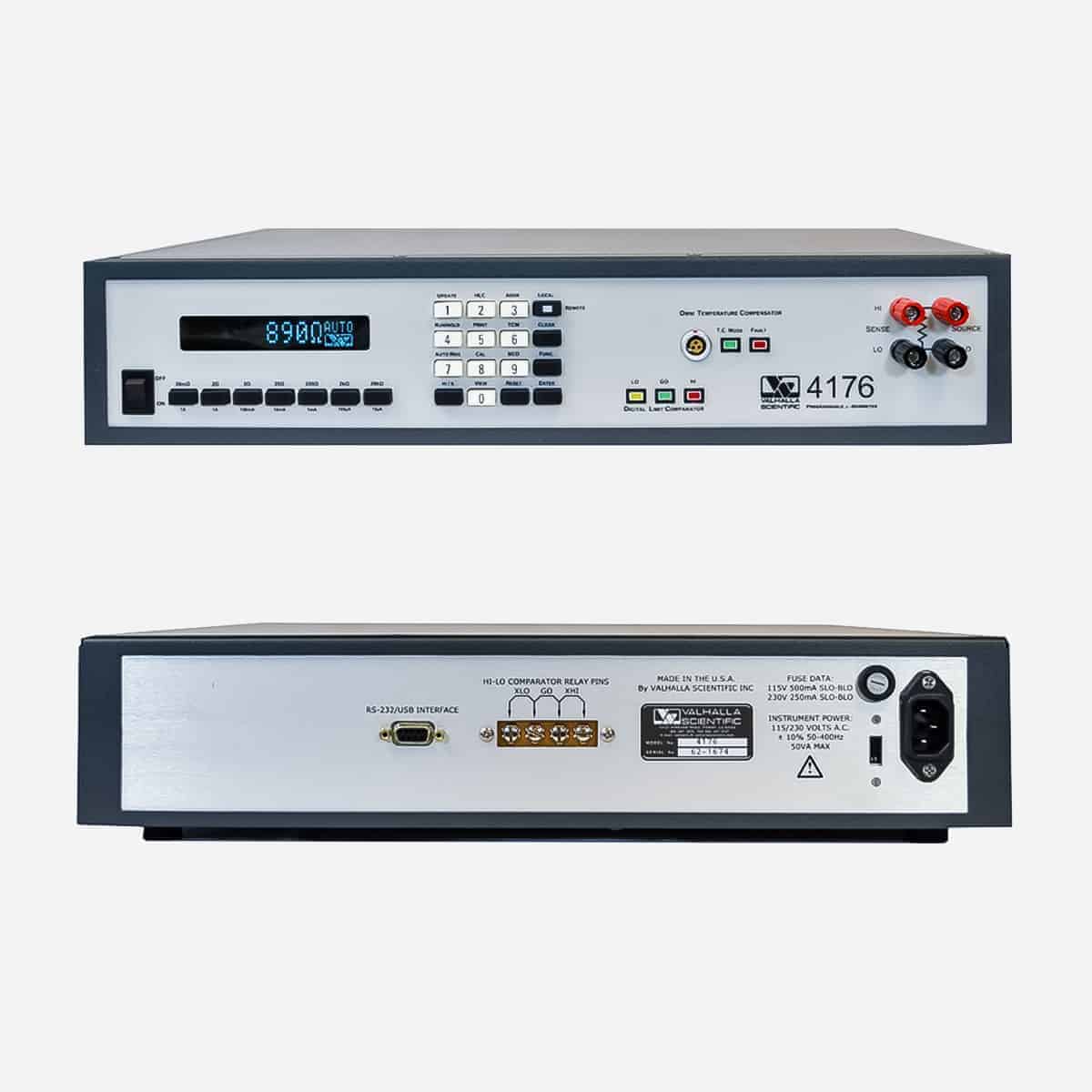 Automatic Temperature Compensation
Reduce Errors, Improve Productivity, and Expand Possibilities
The 4176 Micro-Ohmmeter was designed to satisfy applications where temperature compensation is mandatory. The resistance of component material such as copper, aluminum, etc., varies greatly with variations in ambient temperature. The Valhalla TCM feature allows these measurements to be accurately made and referenced to a selected temperature point of interest, e.g., 20°C. With just one temperature sensor (the Omni-Temperature-Compensator), the instrument can be programmed to compensate for any temperature coefficient and to any temperature reference. The instrument not only will display the compensated value of your load, but also the non-compensated value and the real-time ambient temperature of the immediate area.
Hi-Lo Comparator Reduces Human Error Automatically
Using the 4176 HLC mode (Hi-Lo Limit Resistance Comparator) can save you time and mistakes caused by human error. Once you set your limits, three front panel LEDs allow a visual go/no-go view of the result, a beeper gives an alerts when limits are exceeded, and a rear panel relay closure screw terminal block can be used to implement an automated batch sorting system for components or products, operate counters, custom sound alarms or shut off a process.
Programmability
A Run/Hold function is also a standard feature of the 4176. The user can also program this function as a peak Hi or peak Low detector. Measurements may be printed or logged and viewed in a spread sheet by using the Print/Log feature also standard.
Ranges
Range

Full Scale

Resolution

Test Current

Accuracy

(± % reading ± % range)

Temperature

Coefficient

TCM Mode Accuracy

(± % reading ± % range ± % ΔT)

20mΩ
20.000mΩ
1µΩ
1A
±0.02 ±0.02
±0.002%/°C
±0.02 ±0.07 ±0.001
0.2Ω
.30000Ω
10µΩ
1A
±0.02 ±0.02
±0.002%/°C
±0.02 ±0.07 ±0.001
2Ω
3.0000Ω
100µΩ
100mA
±0.02 ±0.02
±0.002%/°C
±0.02 ±0.07 ±0.001
20Ω
30.000Ω
1mΩ
10mA
±0.02 ±0.02
±0.002%/°C
±0.02 ±0.07 ±0.001
200Ω
300.00Ω
10mΩ
1mA
±0.02 ±0.02
±0.002%/°C
±0.02 ±0.07 ±0.001
2kΩ
3.0000kΩ
100mΩ
100µA
±0.02 ±0.02
±0.002%/°C
±0.02 ±0.07 ±0.001
20kΩ
30.000kΩ
1Ω
10µA
±0.02 ±0.02
±0.002%/°C
±0.02 ±0.07 ±0.001