Power Analysis Detects Subtle Faults in Products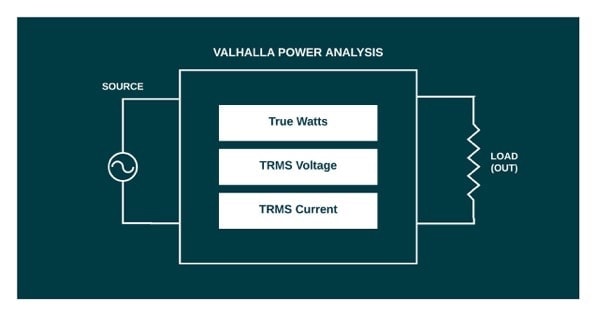 Power analysis is essential to quality assurance in production testing for a wide variety of electrical products. Power analysis (including harmonics and %THD) of a product is an excellent quality indicator of product performance, especially when compared to an identical model.
For example, consider a medical device like an I.V. infusion pump generating excessive internal heat. A slightly binding rotor bearing or faulty power supply component may allow the product to perform in the short term, but product failure is inevitable. In more subtle failure modes, just because the motor "runs" or the product appears normal doesn't mean thermal runaway and product failure won't happen soon. A given product may be meeting its' basic specifications for operation yet consuming 10% more power than normal.
Power analysis detects otherwise invisible secondary product problems so you can avoid more costly product field failures and improve your product's reliability reputation.
The figure above shows a typical device under test (DUT) being tested for power, current use and voltage drop.
Products Improved through Power Analysis
AC or DC Power Sources
Appliances – Toasters, Blenders, TVs
Battery Powered Devices – Laptops, Green PCs
Compressors, Elevators, Hoists
Displays and Monitors (VGA)
EnergyStar Program Product Power Analysis
Fluorescent Lamps
Generators – AC or DC
Gyro's (inertial Guidance System's)
High Intensity Discharge Lamps
Lamp Ballasts, Compact and Magnetic
Lamps, Light Bulbs
Laser Printers, Faxes, Office Equipment
Linear Mode Power Supplies
Medical Instruments, I.V. Pumps
Motor Incorporated Products, 1Ø & 3Ø
Power Tools – Drills, Saws, Lathes
Pumps, Liquid and Vacuum-Type
Switching Mode Power Supplies
Test Instruments
Transformers – all 1Ø and 3Ø types
Transformer Incorporated Products
Uninterruptible Power Supplies